12月
28
周五
2018
FHY Universal Love Healing Energy Transmission
12月 28 @ 2:15 下午 – 5:30 下午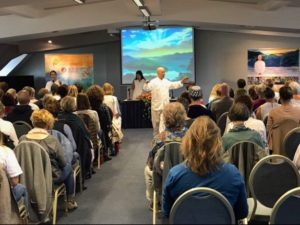 Descrip­ti­on
B. FHY Uni­ver­sal Love Healing Ener­gy Trans­mis­si­on
Date: Thurs­day 28 Decem­ber 2017 from 14:15pm to 17:30pm
Venue: West Ryde Com­mu­ni­ty Hall, West Ryde NSW 2114
Admis­si­on: $50 Gene­ral, $40 Con­ces­si­on, $180 Fami­ly (4 peop­le)
Lan­guage: Man­da­rin with English Trans­la­ti­on.
Grand­ma­ster Da Tong will explo­re the Five Vir­tu­es of Modes­ty and exp­lain the Five Bles­sings: Lon­ge­vi­ty of the indi­vi­du­al and fami­ly, Nobleness of cha­rac­ter and abundance, Health of the body and peace of the soul, Ben­evo­lence and kind­ness, and Good deeds every day for good life ending.
Learn the anci­ent "high-dimen­­si­o­­nal pla­ne­ta­ry man­tra, toge­ther with the Gre­at Uni­ver­sal Love healing method, which cleans the par­ti­ci­pants ener­gy field. Regu­lar prac­tice will help balan­ce your body, mind and soul. It will also impro­ve your mar­ria­ge, fami­ly life, aca­de­mic stu­dy, care­er, Feng­S­hui, finan­ci­al situa­ti­on, inter­per­so­nal rela­ti­onships, etc. It may even result in tre­men­dous posi­ti­ve life chan­ges.
Prac­tice the Inter­stel­lar healing ener­gy trans­mis­si­on, which trans­fers the light from pla­nets that are asso­cia­ted with the body's five inter­nal organs, to balan­ce par­ti­ci­pants yin and yang and also to puri­fy the body and soul.
Bless par­ti­ci­pants and their fami­ly and friends not in atten­dance by chan­ting the "uni­ver­sal son­g" which heals their Human Feng­S­hui Ener­gy beyond space-time.
*Plea­se note that the­re may be other ener­gy works not men­tio­ned as above, chan­ges may occur depen­ding on the need.
FHY Human FengShui Energy Transmission
12月 28 @ 9:15 下午 – 9:30 下午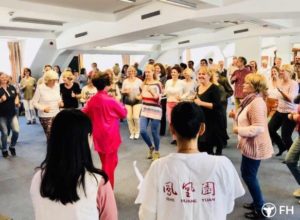 AFTER THE COMPLETION OF SEVEN
FHY

WELLNESS RETREATS IN ASIA AND EUROPE THIS YEAR, THE GRANDMASTER DA TONG (CHAIRMAN OF FENG HUANG YUAN (

FHY

) INTERNATIONAL ASSOCIATION, HEAD OF

FHY

INTERSTELLAR INSTITUTE, SAN FRANCISCO

USA

) WILL BRING A SERIES OF

FHY

WELLBEING WORKSHOPS TO SYDNEY THIS DECEMBER 2017 AND JANUARY 2018.

 A. FHY Human Feng­S­hui Ener­gy Trans­mis­si­on

Date: Thurs­day 28 Decem­ber 2017 from 9:15am to 12:30pm

Venue: West Ryde Com­mu­ni­ty Hall, West Ryde NSW 2114

Admis­si­on: FREE but boo­king is essen­ti­al

Lan­guage: Pre­do­mi­nant­ly in Man­da­rin, with the help of English speaking volun­te­ers during Medi­ta­ti­on and High Dimen­sio­nal Run­ning.
Grand­ma­ster Da Tong will explo­re What is human Feng­S­hui?
Prac­tice Human Feng­S­hui Ener­gy trans­mis­si­on, which helps par­ti­ci­pants to clear the body meri­di­ans, ease depres­si­ve moods and eli­mi­na­te nega­ti­ve ener­gy from anxie­ty, ten­si­on, and fear.
Through this Feng­S­hui Ener­gy trans­mis­si­on, you can heal your life by healing your body, mind and emo­ti­on. This prac­tice will pro­mo­te peace of mind, increa­se your ener­gy levels and resto­re pas­si­on and joy into your life.
Da Tong High-Dimen­­si­o­­nal Run­ning is a space-time run through the third dimen­si­on whi­le the sub­t­le body moves in a hig­her dimen­si­on. This space-time exer­cise through the third dimen­si­on embo­dies the messa­ge of gre­at love from Feng Huang Yuan (

FHY

). With the upbeat music, this run­ning in place can great­ly sup­port the healing of the phy­si­cal body.
Regu­lar prac­tice can result in bet­ter car­dio­pul­mo­na­ry fit­ness with a more regu­lar heart­beat and bre­at­h­ing during the run­ning. It will tre­at sub-health con­di­ti­ons and impro­ve your body shape.
This exer­cise can be prac­tised by all, inclu­ding all ages and fit­ness levels.
Join us! Run­ning to Health! Run­ning to Hap­pi­ness!